You can further increase the security on your Goldmoney Personal or Business Account account by setting up Two Factor Authentication, or 2FA! This is an optional added layer of security on your account that sends a code or "One Time Password" to your mobile phone when initiating certain actions on your account. You can choose to receive a verification code either when you are logging into your Goldmoney account or when you are making a payment or redemption, or you can require authentication for both actions!
A 7-digit code will be sent via SMS to the mobile phone number listed on your Goldmoney profile that you entered upon registration. If you have the Authy app installed on your smartphone and it is paired to the same phone number, it will automatically be configured to receive the code there instead of via SMS. If you are having trouble receiving the SMS code sent to your phone during 2FA setup, you may want to install the Authy app for better results. Click 
here
 to visit the Authy website and learn more about the app.
To set up 2FA on your account, select the "More" icon from the navigation bar, and then select "Security Settings" from the side menu.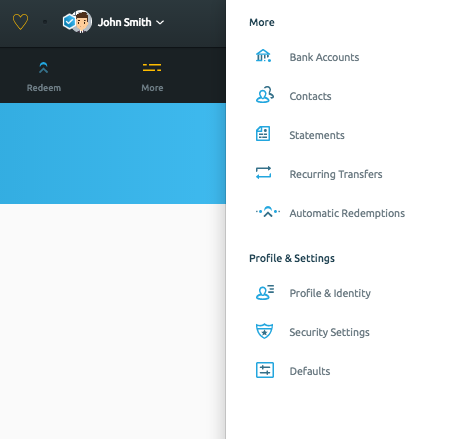 Select the toggle switch next to the actions that you would like to require Two Factor Authentication in order to perform. Select "Save Changes."

In order to confirm your 2FA settings, a 7 digit code will be sent to your mobile phone. If you have Authy linked to your phone number, open the app the get your code. Enter the 7 digits on screen to confirm your settings.
If you wish to remove 2FA verification, ​you can visit your "Security Settings" again to turn the toggle switches off. You will be required to verify any changes to your 2FA settings by entering a 7 digit code to confirm the change.